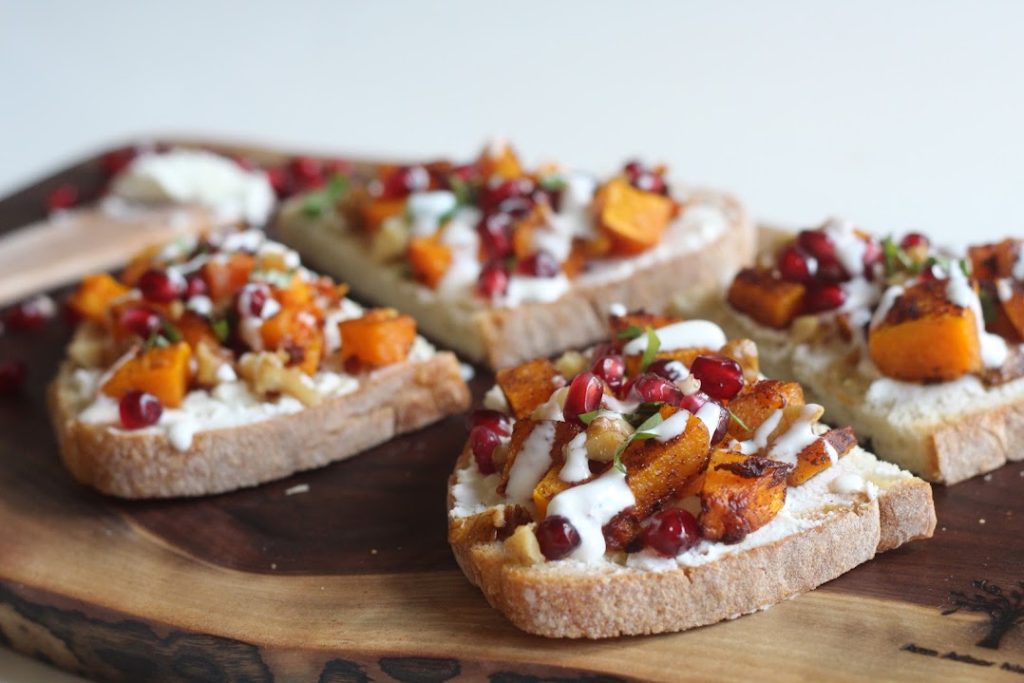 Prep Time: 20 min | Cook Time: 1 hour
Ingredients
Serves about 4
½ medium butternut squash

4 slices of toast (I recommend sourdough or an artisan loaf)

Goat cheese

10 or so walnuts

1 pomegranate

A few basil leaves

Olive oil for roasting

Butter for toasting bread
For Savory Toast
Crushed red chile flakes

Salt and pepper
For Sweeter Toast
For the Lemon Yogurt Dressing (approx. amounts)
½ cup plain yogurt

Juice of ½ lemon

¼ teaspoon salt

¼ teaspoon sugar
Prep
Preheat oven to 400 deg F.

Peel and chop butternut squash. Chop into ~1" cubes. Try to chop them uniformly so they bake evenly.

Place squash cubes in a mixing bowl. Drizzle over top of the squash with olive oil and mix in seasonings depending on sweet or savory toast (crushed red chile flakes/salt/pepper, or cinnamon/brown sugar). Mix enough so all of the squash is evenly coated.

Chop walnuts and set aside in a bowl.

Peel and de-seed pomegranate. Be careful not to get juices every where by carefully cutting off the top and bottom of the pomegranate and remove. Then score along where the "white" seam of the pomegranate seems to run down – make just enough of a cut to break the skin but don't cut all the way in. Once this is done, tear the quarters of the pomegranate apart and carefully de-seed everything into a separate bowl. Set aside.

Mix the yogurt lemon dressing together and set in aside.
Get Cooking
Roast the squash for 35-40 minutes at 400 deg F, stirring occasionally. Remove from the oven when the squash cubes are evenly browned and the inside is tender enough to stick with a fork.

Meanwhile, heat some butter in a cast iron skillet over medium-low heat. When hot enough, toast each side of your bread pieces in the skillet until each side is golden brown. Set aside. (You can also just toast your bread, but I like the buttery crisp sides).

Wipe the pan clean and heat over medium. Throw the walnut pieces in and toast until you can smell the toastiness and the nuts have browned. Remove from heat and season immediately with either savory or sweet complement (plain salt for savory walnuts, or brown sugar for sweet walnuts). Set aside.

When the squash are done, remove from oven and let cool 5-10 minutes.

Assemble toast. Spread goat cheese on each toast slice and add toppings accordingly.

If eating savory toast, add chile-salt squash, salted walnuts, pomegranate seeds, basil, and lemon yogurt. Finish off with a sprinkle of flaky sea salt and grinding fresh black pepper over top.

If eating sweet toast, add cinnamon-squash, brown sugar walnuts, pomegranate seeds, basil, and lemon yogurt. Finish with a sprinkle of brown sugar.