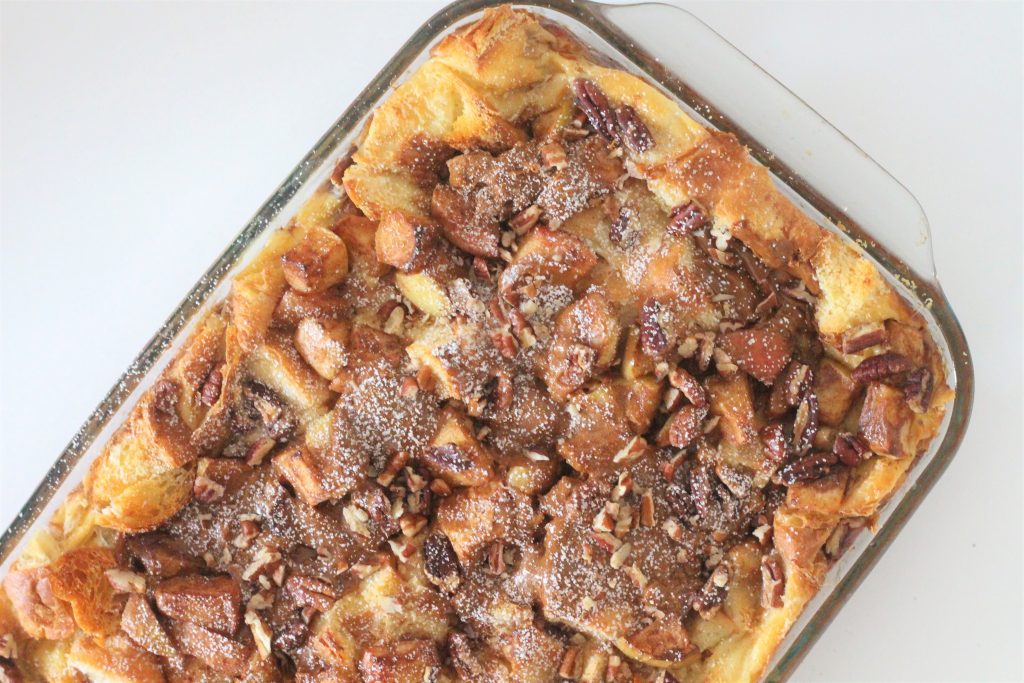 This dish is a guest feature written by Emma Hayes, baker extraordinaire! Emma has served as a great resource in finding cooking and baking inspiration, and has published two articles through King Arthur Baking on navigating the kitchen as a disabled cook. Check the articles and her socials out below:
Tips for Baking with Brain Fog by Emma Hayes
Baking with Chronic Fatigue? by Emma Hayes
Check out Emma's Instagram for lovely baking pics and inspiration!
___
This dish was the happy product of a pre-move freezer clean-out. I originally made it with a mix of old baguette and hot dog and hamburger buns and a bag of freezer burnt apples…it was still delicious! It's sweetened with only a single can of dulce de leche – this lets the tartness of the apples shine through and distinguishes it from a bread pudding as a true breakfast dish. If you want it sweeter, up the amount of dulce de leche or add a few tablespoons of brown sugar to the apples and/or custard. It will keep in the fridge for several days and can easily be reheated in the microwave in squares, or as a whole dish in the oven (cover with foil first). My boyfriend discovered during that move that a piece eaten cold and topped with peanut butter is a great snack on the go!
ingredients
3 tablespoons unsalted butter

3 large apples, diced – skins optional for added flavor; granny smith or other pie apples, or a mix of tarts and sweets works best 

1 teaspoon ground cinnamon

16-20 oz stale bread, cubed – a mix of sourdough or other crusty bread with softer, sweet breads is delicious!

8 large eggs, beaten

3-4 cups whole milk, depending on how absorbent your bread is

1 (14 oz) can dulce de leche; warmed and stirred; divided 

1 teaspoon vanilla extract

1 1/2 teaspoons kosher salt

1/2 cup chopped pecans (optional)

Confectioners' sugar, for topping (optional)
get cooking
Make the apple layer: Melt butter in a large skillet over medium heat. Add apples and cook, stirring often, until apples are just starting to soften, 2-3 minutes. Add 2 Tbsp dulce de leche, cinnamon, and 1/2 tsp salt (and an optional splash of vanilla extract) and cook another few minutes until a caramel-like sauce has formed and thickened slightly. Remove from heat.
Make the custard: In a bowl, whisk together the eggs, milk, vanilla extract, 1 tsp salt, and 2/3 cup dulce de leche (in other words, reserve roughly 1/3 of the dulce de leche after the 2 Tbsps have been added to the apples to drizzle on top of the bake, then add the remaining 2/3rds to the egg mixture). Whisk until combined; alternately, blend in a blender or use an immersion blender to combine. 
Assemble: Grease a 9×13 baking dish. Place roughly half the cubed bread in an even layer in the greased baking dish. Spread the cooked apple mixture and any liquid in the pot evenly over the bread. Pour roughly half of the egg mixture over the bread and apples, top with the remaining bread, then remaining egg mixture. The liquid should cover all but the top of the bread – add more milk (and another egg if adding more than an additional cup of milk) until the right level is achieved. Spoon or drizzle the remaining dulce de leche over the top of the bread, smearing over the pieces of bread that stick out of the custard. Sprinkle pecans over, if using. Allow the unbaked dish to sit in the refrigerator for 30 minutes – 2 hours, or until the bread has absorbed a good bit of the liquid. 
Bake: Preheat the oven to 350 F and remove the dish from the fridge. Cover tightly with foil, and bake for 20 minutes, then remove the foil and bake an additional 20-40 minutes until the top is browned and the very center jiggles only slightly (Note: depending on the exact contents of your dish and your individual home oven, cook times can vary and you may need additional time to cook to done. Pay attention to the visual cues: browning on the top and the bake being nearly set and jiggling only slightly). Dust with confectioners sugar, if desired, and serve warm.