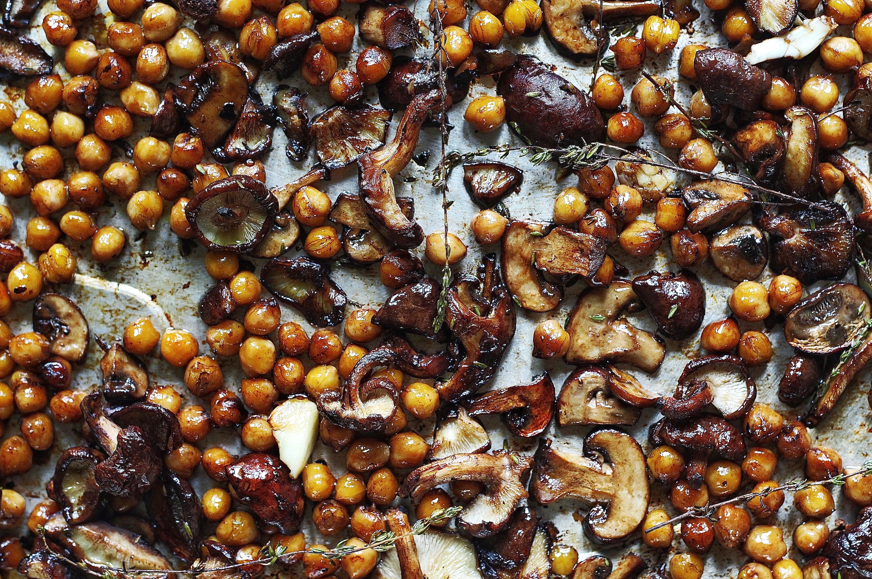 prep time: 20 minutes | cook time: 35 minutes
I adapted this recipe after cooking Half Baked Harvest's Pesto Polenta with Thyme Roasted Mushrooms and Chickpeas. I ended up adding the balsamic element when I was making that recipe and will now make it as a standalone side or dish often.
ingredients
1 ½ pounds mushrooms (shiitake or cremini)

1 can chickpeas, drained

6 cloves of garlic, peeled and smashed

Extra virgin olive oil for roasting

4-5 sprigs of thyme

2 Tablespoons balsamic vinegar

2 teaspoons extra virgin olive oil 

1 teaspoon honey

Salt and fresh ground pepper
prep
Preheat the oven to 400 degrees F with your oven rack positioned in the middle of the oven (not too high and not too low).

Drain and rinse chickpeas. Pat dry. (If you want the chickpeas very crispy, make sure they're uber-dry, but I like these ones less crispy so I'm not that thorough).

Slice the mushrooms lengthwise. This doesn't need to be exact either.

Peel and smash the garlic cloves.
get cooking
On a rimmed baking sheet, add the mushrooms, chickpeas, and garlic and drizzle with olive oil until everything in the pan is evenly coated. Stir everything around to incorporate oil well. Toss the sprigs of thyme over top of the pan (you don't have to remove the leaves).

Roast for 25-30 minutes, stirring halfway through.

Meanwhile, mix the balsamic vinegar, olive oil, and honey together in a small bowl and set aside.

Pull the pan out of the oven and let cool for a few minutes.

Remove the thyme stems from the pan and discard.

Either transfer the contents of the pan to a bowl first and toss in the vinegar mixture, or just drizzle the mixture directly over the chickpeas and mushrooms in the pan and stir well. Season with salt and pepper.

Eat furiously.