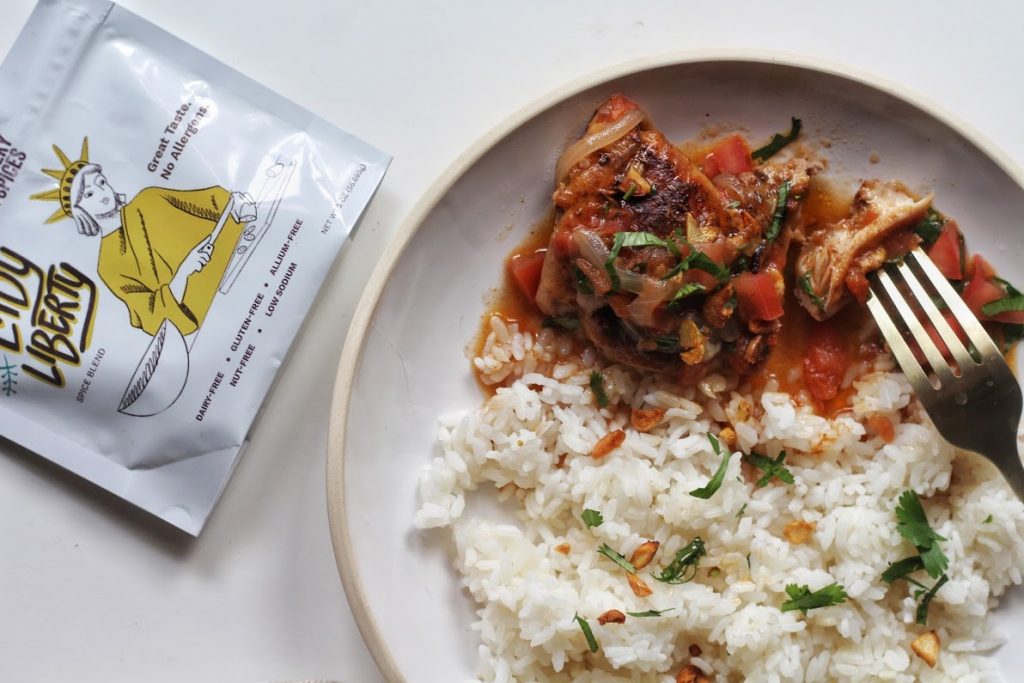 prep time: 15 min | cook time: 45 min
This recipe was created in partnership with Cheeky Spices! Cheeky Spices is a brand local to my town, Ann Arbor, that creates allergen-free spice blend products. Their current lineup features three different spice blends: The Herbalist, Silk Road, and Lady Liberty. This coconut chicken thigh recipe is made using the Lady Liberty spice blend, which features ancho spice, rosemary, lemon thyme, smoked paprika, sea salt, and mixed ground peppercorns. The recipe itself is fairly easy, and perfect for a night in snuggled up on the couch. You can serve this along with plain rice, naan, flatbreads, a salad… you get the idea. It's flavorful, creamy but not too heavy, and delicious. Enjoy!
Find Cheeky Spices blends available online or at local retailers listed on their website!
notes
Spices: If you don't have Cheeky Spices nearby, you can substitute with a mix of 1 teaspoon paprika + 1 teaspoon smoked paprika + 1 teaspoon chili powder, and adjust for taste from there. (Likewise if you don't have smoked paprika, just double up on paprika. The taste won't be quite the same but it'll do)
ingredients
1 ½ lbs boneless skinless chicken thighs (about 4-5 thighs)

½ yellow onion

8 cloves garlic, divided

1 Tablespoon + 1 teaspoon Lady Liberty seasoning, divided

1 can coconut milk (13.5 oz)

2 Roma tomatoes

¼ lemon wedge

Salt

Cilantro
prep
Trim excess fat from thighs. Rub Lady Liberty seasoning on both sides of each thigh (about 1 Tablespoon of seasoning) and set aside. Let spices sit on chicken for at least 5 minutes.

Meanwhile, peel the garlic cloves. Set two cloves aside. Slice the remaining 6 cloves into thin slices.

Heat a skillet over medium heat. Have a plate set aside with a paper towel atop it. Add the sliced garlic cloves and enough olive oil to the pan so the garlic is completely covered in oil. Cook over medium heat, stirring constantly and watching carefully, until the garlic has turned JUST golden brown, about 2-3 minutes. Transfer to the paper towel and set aside.

Mince the other two garlic cloves.

Dice roma tomatoes. 

Peel and slice the onion into thin-ish slices.

Chop cilantro.
get cooking
Clean out the pan and add a very light layer of olive oil to it. Heat pan over medium-high heat. Sear the chicken thighs for 2 minutes on each side. Add onions, the minced raw garlic, and turn heat to low. Cook until onions are slightly softened, about 5 minutes or so.

Add the coconut milk and half of the diced tomatoes. Add 1 more teaspoon of Lady Liberty spice to the pot. Cover and simmer on low for 15 minutes.

Uncover and simmer for another 10-15 minutes. If the sauce looks like it's reducing too much, add a splash of water to thin out.

Squeeze lemon over top. Top with crispy garlic, cilantro, and the rest of the diced tomato. Serve with rice, quinoa, or roasted veggies. Enjoy!