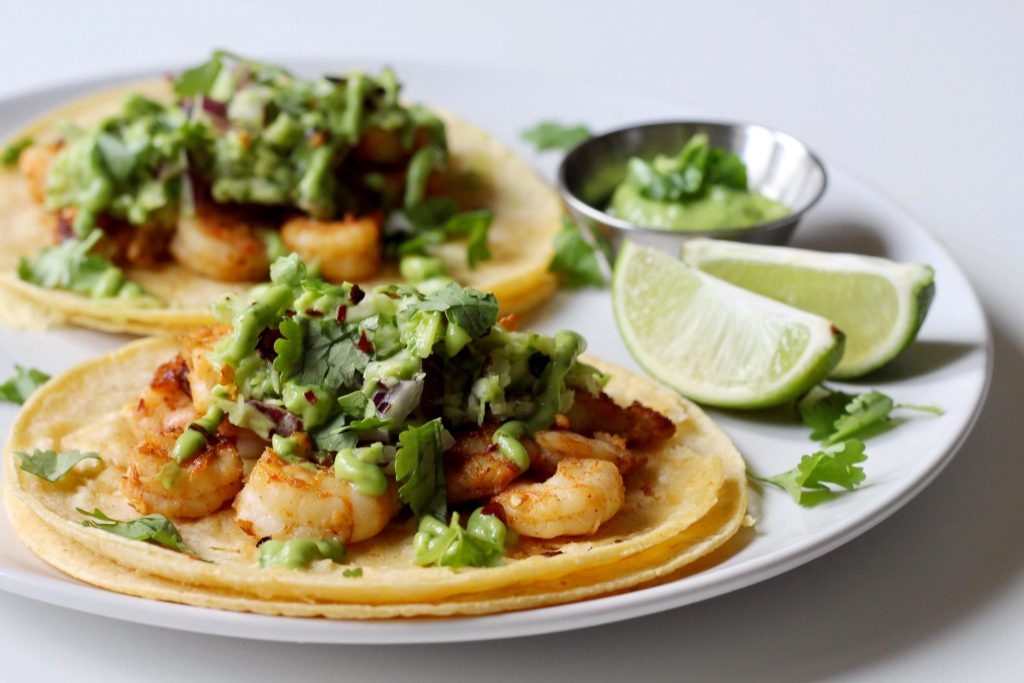 prep time: 15 min | wait time: 30 min | cook time: 20 min
Shrimp tacos are quite the summer-y dish to me. I recommend eating them with cilantro lime rice and a glass of white wine on a humid night. This is one of these recipes that uses a shit ton of cilantro and for those of you that are on the side that HATE cilantro I have no idea what to tell you.
notes:
Shrimp:

You can either buy shrimp that are already peeled and deveined, or buy them with the tail on and do it yourself  (it's not as hard as it seems I promise). Go with small or medium shrimp, labeled either 50/60 per pound or 35/40 per pound.
ingredients
makes about 8 tacos
shrimp
1 pound shrimp (See Note 1 above)

2 Tablespoons olive oil

1 teaspoon cumin

1 teaspoon chili powder

1 teaspoon paprika

1 teaspoon garlic powder

1 teaspoon onion powder

½ teaspoon salt
avocado cream sauce
⅓ cup olive oil

¼ cup water

1 avocado

½ cup cilantro, packed well

1 small jalapeno

½ teaspoon salt

1 clove garlic

Juice of 1 lime (About 2 Tablespoons)
slaw fixings
2 cups shredded green cabbage

¼ cup red onion
extra taco fixings
Corn tortillas 

Cilantro for garnish
prep
Peel and devein shrimp if needed. 

Mix shrimp with the olive oil, garlic, and spices in a mixing bowl. Cover and refrigerate for 30 minutes.

Shred the cabbage with a grater.

Finely dice the red onion. The smaller the pieces the better!

Roughly chop cilantro.
get cooking
Blend all ingredients for the avocado cream sauce in a blender or food processor until smooth. Add a little more water if it seems too thick until you like the consistency. Add additional salt to taste if needed.

Prepare the slaw – mix the cabbage, red onion, and half of the avocado cream sauce together. Save the other half of the cream sauce for topping.

Set the skillet to high heat and add olive oil. Test if the pan is hot enough to cook with by flicking water on it. If it sizzles on contact, it's ready to cook with.

Add the shrimp to the pan. Cook for about 5-7 minutes, flipping about halfway through, until the shrimp goes from translucent to opaque.

While the shrimp are cooking, warm the tortillas. You can do this either by wrapping them in a damp paper towel and microwaving for a minute or by steaming in another pan with the lid on. Once warmed, keep wrapped in tin foil or paper towel to retain heat.

Assemble your tacos with the shrimp and slaw. Add more avocado sauce and cilantro to top.

Don't eat too fast. Sometimes I get too excited and feel like I'm basically swallowing whole shrimp instead of chewing my food like a normal person. Don't be like me. Chew your food.