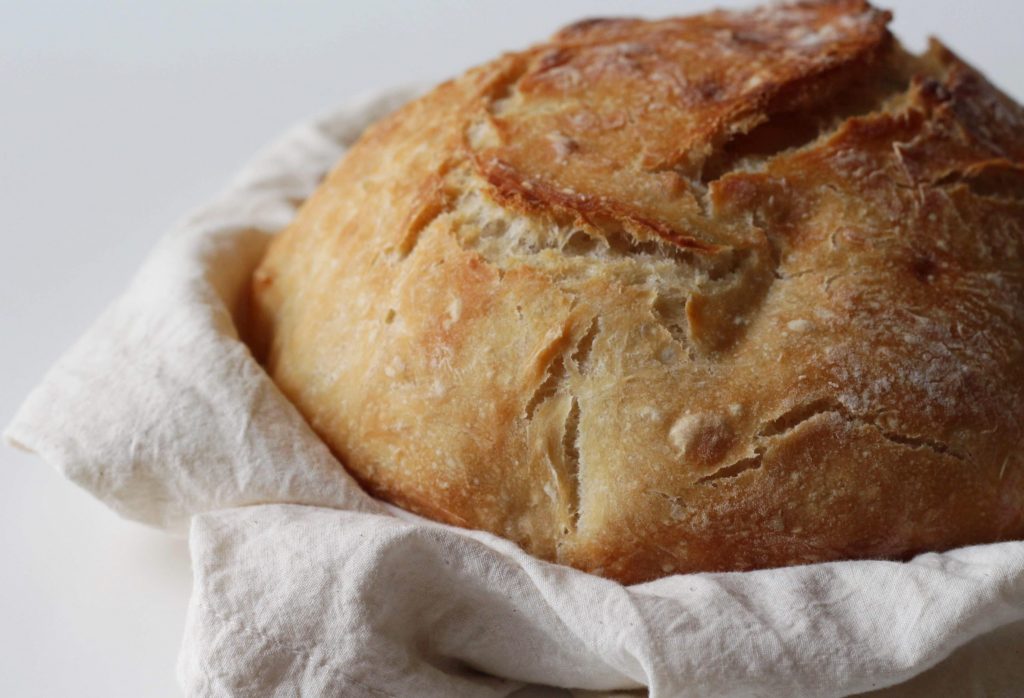 prep time: 10 min + 8-12 hr resting | cook time: 40 min
Making bread sounds more difficult than it really is, and it can be especially easy if you go with the no-knead bread method; the concept was made famous by Jim Lahey and is as simple as mixing the ingredients, waiting for the dough to rise, and then baking it off. Once you've made it a couple times, planning ahead to make it is an easy routine. It just requires time and a Dutch oven (or an oven-safe casserole dish with a lid).
Dutch ovens are good for retaining steam and heat within the pot which helps the bread develop a nice crust that gives a satisfying crunch when you cut into it. The two popular brands that sell Dutch ovens are Staub and Le Creuset, but those are expensive so it's not necessary to invest in one if you aren't an avid cook. Lodge is a more affordable brand that also makes quality items. My suggestion for what you are looking for is to buy something around the 4-5 quart size and make sure it's oven safe. Most are oven-safe up to about 500 degrees F but some can vary. I own Staub because the Le Creuset silicone handles are only oven safe to a certain temperature, and if you want to cook higher than that you have to buy a replacement metal handle from them. Also I like the Staub color selection better. You can see where my priorities are at. 
There are of course more involved bread making methods out there. However for the simplicity and ease this no-knead method offers, it works just fine for me. And it's so delish.
get baking
Flavor Additions:

If you feel like adding some flavor to your bread, start experimenting with adding ingredients into the dough when you are mixing the dry ingredients. I have added rosemary before with great results. My favorite combination to bake is cheddar and jalapeno (1 cup cheddar, 2 sliced jalapenos).

Tools:

If you do not have a Dutch oven, you can also use any sort of oven-safe casserole dish with a lid. Another item that helps is parchment paper – it prevents an overly thick crust from forming at the bottom of the bread. If you don't have parchment paper, your bread will still turn out fine, but be aware it will take a little work to cut through the bottom when slicing.

Measuring for Baking:

In baking, you yield better results if you measure ingredients in weight rather than by volume (specifically ingredients like flour). The reason being that one person's "1-cup" scoop of flour may be compacted more than another person's scoop of flour so your actual dough amount could vary greatly. If you do not own a kitchen scale, do the best you can to measure flour by scooping it gently into your measuring cup with another spoon, then level off with a knife. This will keep the flour from being densely compacted compared to if you were to scoop into the flour directly with a measuring cup. 
ingredients
3 cups all-purpose flour (390 grams)

2 teaspoons Kosher salt

1 teaspoon instant yeast

1 ½ cups warm water (12 fl oz / 360 ml)

Optional: flavor additions (See Note 1 above)
get baking
Mix the dry ingredients together – flour, salt, yeast, and any additional ingredients you wish.

Slowly incorporate the warm water while mixing with a wooden spoon. It is helpful to alternate between pouring small amounts of water and mixing rather than dumping all the water in at once. This allows you to more gradually incorporate water through all parts of the mixture and prevents dry clumps from forming. I will usually push the dough mixture to a side of the bowl halfway through, pour some water at the bottom part of the bowl where most of the loose flour is at, and mix upward into the rest of the dough. Repeat until done. NOTE: It's important that the water is warm (not HOT) when creating your mixture. Warm water encourages the gluten to strengthen and stick together, and we want a mixture that is sticky and moist (ew "moist" ew ew ew).

Cover the bowl with plastic wrap or a damp towel and leave out at room temperature. Let the yeast do it's work and let the bread rise for at least 8 hours, or ideally up to 12 hours. I've heard the maximum rise time is 18 hours, but I've always been too impatient to wait that long myself.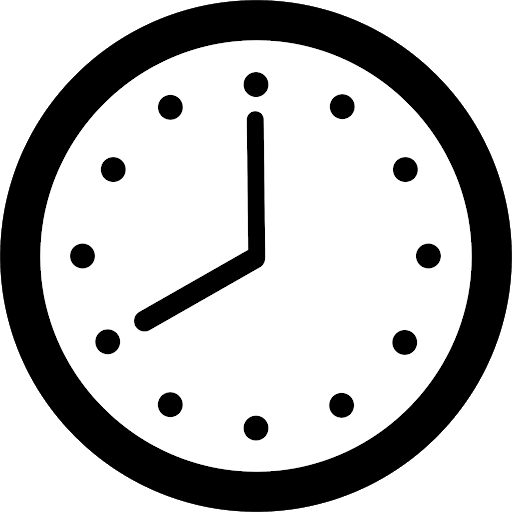 PAUSE TO WATCH PAINT DRY FOR 8 – 12 HOURS
Remove the dough from the bowl and set on a floured surface. The dough will be pretty sticky so you have to pull it from the sides of the bowl bit by bit. Gently shape the dough into a ball. If you need to use a bit more flour to prevent sticking you can, but try not to add much more to the dough.

Cover the dough with plastic wrap or a damp towel. Let it rest for about 30 minutes.

Place the Dutch oven in the oven, and preheat to 450 degrees F for 30 minutes (same amount of time dough is rising).

After 30 minutes, transfer the dough onto a piece of parchment paper. If you don't have parchment paper, it's not a deal breaker – I've made bread without it and just end up with a thicker bottom crust and have a bit more cleanup on the bottom of the pan. Take the Dutch oven out and place it on the stovetop – be careful, it's hot! Place the parchment paper/dough into it carefully. Cover with the lid and set on the oven rack. Let bake for 30 minutes.

After 30 minutes, take the Dutch oven out and remove the lid. Set the bread back in to bake without the lid so that the crust can brown. Let it bake for up to 10 more minutes. I start keeping an eye on mine around 6 minutes and take it out when I like what the crust looks like.

Remove the Dutch oven and let the bread cool for at least 15 minutes. Cut into that good good crust and enjoy.
storage
Unfortunately, homemade bread doesn't keep as long as store-bought because it doesn't contain the same preservatives. Bread is always better fresh, but it will still stay decent for a couple of days after baking. I've had mine for as long as a week and after toasting it, it tasted just as great to me. Once it is sliced, store in a paper or ziploc bag. If you would like to store it for an extended period of time, slice the loaf in its entirety and then freeze. 
You can also consider repurposing the bread into breadcrumbs, croutons, roll into meatballs, et cetera once it starts going stale.