ft. Ajiri Tea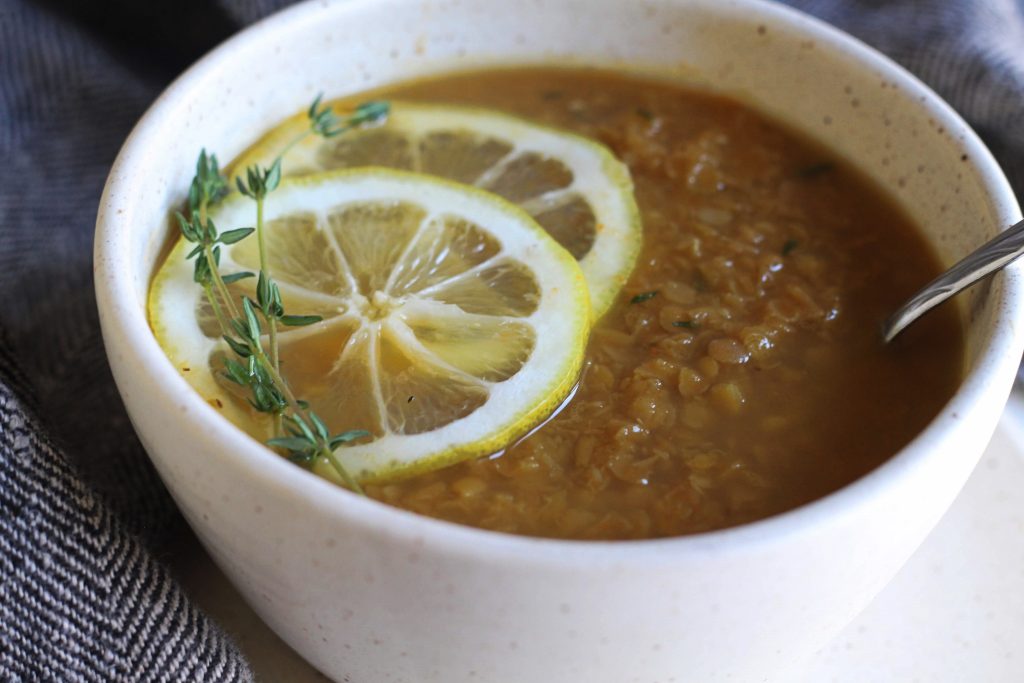 prep time: 15 min | cook time: 50 min
The Recipe:
This recipe was inspired by my love for Mediterranean lentil soups, which are thick and hearty yet bright and lemony at the same time. My recipe is reminiscent of that, with an added touch of earthiness through the addition of floral black tea and thyme. Eat as a starter or have a huge bowl with some pita bread for a full meal!
The Company:
I promiiiiiise I will not become one of those food bloggers that provides a 10-page writeup on the background of my recipe before even getting to the gotdayum ingredients section. However I am taking up more space than usual for my recipe intro to highlight a company I've been very lucky to collaborate with: Ajiri Tea.
At a glance, Ajiri Tea is a not-for-profit company that delivers high quality, handpicked tea from small-scale farms in Kenya. Their boxes feature designs handcrafted by Kenyan women and they use their profits to fund school fees for orphans in Kenya. I'm extremely humbled to be able to work with a company that values, above all, people. From their employees, to the students whose schooling they fund, to their customers, Ajiri Tea has shown a commitment to serving others. I encourage you to support them, not only to buy their deeeelicious teas and try out my recipe (hehe), but because I truly think they deserve the support so they can continue making a difference in the world.
Please check out their website to learn more about Ajiri Tea and find retail locations near you or to purchase their teas online. Their Black Tea with Lemon Myrtle is featured in this recipe, but it's also very good  to drink by itself!
notes:
Tea Base:

I use Ajiri Tea's Black Tea with Lemon Myrtle for this recipe as a "broth" for the soup. The lemon myrtle lends a subtle, floral flavor that complements the citrusy fresh lemon in the soup. If you want to make this soup and don't have the tea on hand, you may use vegetable broth instead. 

Lentils:

There are many types of lentils – the main kinds are red, yellow, brown, and green. Buy red or yellow lentils as they break down nicely and give the soup that unstructured chunky texture we are looking for. Brown and green lentils take longer to cook and also hold their firm shape when being boiled, which is not the journey we want for this soup today.
ingredients:
makes 2-4 servings, depending on eating as a side or main
½ onion

2 medium carrots

2 cloves garlic

1 cup red or yellow lentils

2 cups Ajiri Tea Black Tea with Lemon Myrtle (2 teabags)

2 cups plain water, plus a little extra to finish

¼ lb mushrooms, optional

1 lemon

2 teaspoons cumin

4 sprigs of thyme

Salt and pepper
prep
Brew Ajiri Tea's Black Tea with Lemon Myrtle. Measure out 2 cups boiled water into a liquid measuring cup and add 2 teabags. Steep according to package directions, then remove tea bags. Be careful not to leave the tea bags in for longer than recommended or risk *gasp* OVERSTEEPING. I can be a bitter lady but I refuse to have bitter tea.

Rinse lentils in a strainer. Sift through for any rocks left over from harvesting and discard. 

Mince garlic.

Peel and slice carrots.

Dice onion finely.

Wedge lemon into four quarters.

If adding mushrooms, dice loosely and set aside in a separate bowl.
get cooking
Heat oil in a Dutch oven or stockpot over medium-low heat. Test the pot to see if it's hot enough by flicking some water on it. If it sizzles on contact, it's ready to cook with.

Add onions and carrots to the pot. Saute until onions have softened and carrots have deepened in color, about 10 minutes.

Add garlic and saute until fragrant, 1-2 minutes. 

Add cumin and zest the lemon over the pot.

Add the 2 cups black tea and 2 cups plain water and bring to a simmer. Simmer for 10 minutes, stirring occasionally.

Blend the soup ingredients in a high-powered blender or blend directly in the pot with a hand blender. If you are using a standard blender,

make sure to remove the center portion of the lid and cover the opening with a kitchen towel as you blend

— hot liquids can cause pressure issues if the blender lid is completely airtight. Blend slowly until you have a thick, smooth liquid. **

If you prefer not to blend, you can skip this step. I think the soup is better with the carrots and onions blended into the liquid instead of left solid, but you can do whatever you prefer!

Return soup to pot. Add lentils and thyme and stir. Cover and simmer for 20-25 minutes.

Meanwhile, saute diced mushrooms in a pan over medium heat for a few minutes until mushrooms have deepened in color. Turn off heat and set aside.

Depending on preference, thin out the soup with a little extra water until you reach your desired consistency. I add just a few tablespoons of water to thin it out very slightly but maintain an overall hearty and thick consistency.

Add lemon juice wedge by wedge, tasting as you go until the amount of lemon is to your liking (since the amount of juice in each lemon varies, it's good to add gradually so you can control the flavor).

Salt to taste until the flavor of the soup comes alive. Adjust any finishing amounts of lemon or salt until you like the balance of flavors in your soup.

Remove the woody thyme stems and discard.

If desired, season at the end with a small amount of pepper and add the sauteed mushrooms.