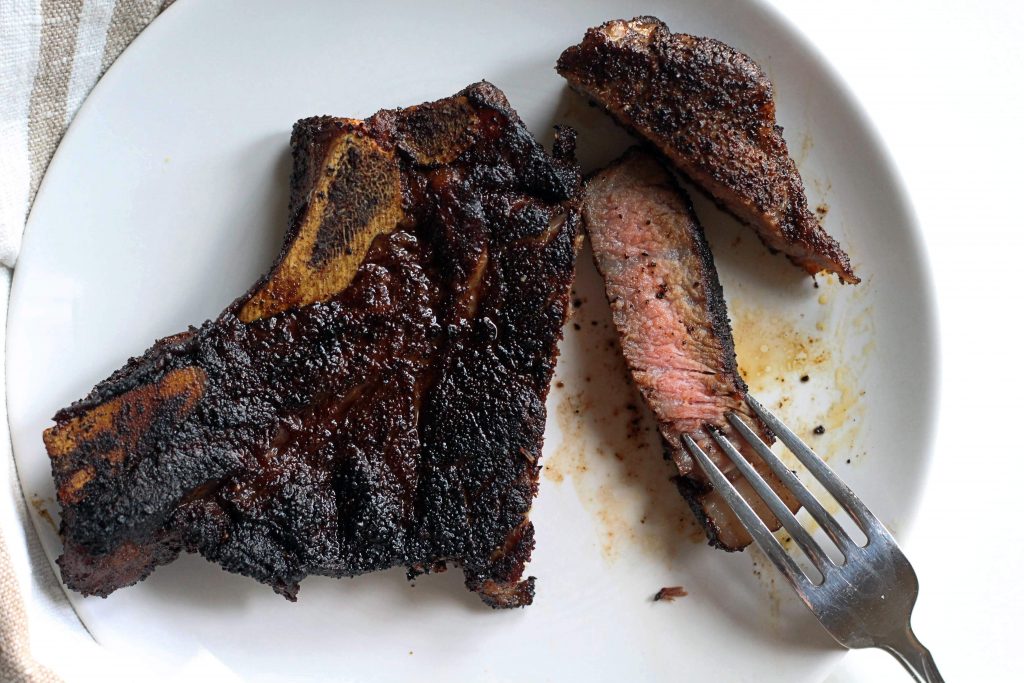 prep time: 10 min | wait time: 4 hr – overnight | cook time: 20 min
As someone who is not a big red meat eater, I really did a number on myself developing a steak recipe. I tested this three times within a week trying to get the spice amounts right and I'm pretty sure my body was like "what the F*CK are you eating all of this for". I'm still digesting right now.
Using a dry rub is a great way to add flavor to your steak. This coffee rub not only lends a smoky flavor and depth to steak, but also develops a delicious crust around your meat that helps lock in the meat juices (meat juices truly sounds gross but it's delicious). 
As steak cuts vary widely, your cook time and method will vary depending on the type of steak you are cooking and what your preferences are. Since I live in a 600 SF apartment and have no grill, I'm confined to the stovetop/oven. I outline the methods I use to cook a couple steaks below, but feel free to use whatever kind of steak you want and cook it however you like.
This recipe was created in collaboration with Bearclaw Coffee – make sure to check out their website for some delicious coffees you can order, grab some caffeine from one of their very cool DRIVE THRU COFFEE locations, and keep an eye out for their mobile coffee truck's appearances at local events.
Notes:
Salt:

You should salt your steak before cooking no matter what. The best way of doing this is to grab a handful of salt and loosely sprinkle back and forth above the steak until you've evenly covered the surface, and then repeat on the other side. There is only a small amount of salt included in the rub itself for flavor; because the amount of salt needed on each steak varies depending on its size/thickness, I recommend salting each of the steaks individually before adding the rub.
Coffee Grind:

Whether you grind coffee yourself or buy it pre-ground, opt for something around a fine-to-medium grind. If the coffee is too coarse, the grounds won't adhere well and you'll end up chewing on some too-large which isn't appetizing; if it's too fine, you won't get as thick of a crust. I buy my coffee ground coarse because I brew with a French press, so I use a mortar and pestle to grind them down a bit more. (You can also do this by putting them in a Ziploc and crushing them with a pan). 
Seasoning Before Cooking:

There is some debate over how long to season a steak ahead of time; some think it's best up to 24 hours ahead of time, and others think right before cooking. I'm in the camp that prefers to season well ahead of time… if I remember to (also Samin Nosrat says so and she is basically cooking gospel to me). I think that to make sure the rub adequately flavors the steak, it needs to sit on it in the fridge for 4+ hours. 
Slicing:

When you've finished cooking, slice against the grain of the steak in even strips. The "grain" refers to the way the muscles fibers run – it looks like long lines running across the meat. Slicing perpendicular to the grain cuts through the meat fibers and allows for an easier chew on the meat. (With a rub, it is harder to see the grain after it's done cooking because of the crust, but do your best. I believe in you.)
ingredients
makes enough rub for about 4 servings
RUB
¼ cup medium ground coffee

2 Tablespoons brown sugar

2 Tablespoon chili powder

1 Tablespoon cocoa powder

¼ teaspoon Kosher salt
STEAK THINGS
Steak of your choice – I like sirloin or ribeye

Salt for seasoning steaks

Butter or oil for cooking
prep
Do this up to a day ahead of time – see Note 3 above.
Mix all ingredients for the rub in a bowl and set aside.

Salt each steak individually. Grab a handful of salt and loosely sprinkle back and forth above the steak until you've evenly covered the surface; then repeat on the other side.

Add a generous amount of coffee rub to each side of steak and rub thoroughly. Really WORK IT IN THERE. Get the sides too.

You should have about half of the rub left over. Save this and set aside to add to the steaks before cooking.

Cover and refrigerate for at least 4 hours. 8 hours is even better. Overnight is even better-er. If you are even worse than I am at planning ahead, the minimum is 30 minutes ahead of cooking while the steak sits out at room temperature.
get cooking
I'm not a steak connoisseur so you may have a more preferable method to cook your steak than I do. I will outline a couple steak cuts I cook but feel free to use whatever method/cut you prefer.
Stovetop Ribeye (1 to 1 ½ -inch thick, boneless):
Take steak out of fridge and let sit for 30 minutes to 1 hour; the steak needs time to come to room temperature before cooking.

Add another layer of rub across each steak. This additional layer results in a better crust forming on the steak when searing it.

Heat a cast iron pan over medium-high heat; add a small amount of oil or butter, just enough to spread across the bottom of the pan.

Test the pan to see if it's hot enough to cook on by flicking some water on it – if it sizzles on contact, it's ready to cook with.

For a 1- to 1 ½-inch thick ribeye, cook for about 4 to 5 minutes each side;

Keep an eye on it until the internal temperature reaches 130 degrees F on a meat thermometer for a medium-rare cut (the temperature will rise another 5 or so degrees as it rests). Remove from stove and let rest for 5-10 minutes before slicing.
Stovetop-to-Oven Sirloin:
There is both top sirloin and bottom sirloin – top sirloin is the more prime cut and the kind I'm talking about here.
Preheat oven to 425 degrees F. 

Heat a cast iron pan over high heat; add a small amount of butter or oil to the pan.

Add another layer of rub across each steak. This additional layer results in a better crust forming on the steak when searing it.

Once the pan is hot, set the steak on the pan with tongs; let cook for 2 minutes to get a nice sear and brown the crust. Turn steak over and cook another 2 minutes to sear that side.

Move the pan to the oven and cook for about 6 – 8 minutes (the oven helps cook by indirect heat after searing so you evenly cook through the meat). To be sure about doneness, check the steak's internal temperature with a meat thermometer. For medium-rare, take it out of the oven when it registers about 130 degrees F (it will cook another 5 degrees or so while resting). Wait 5-10 minutes before slicing.