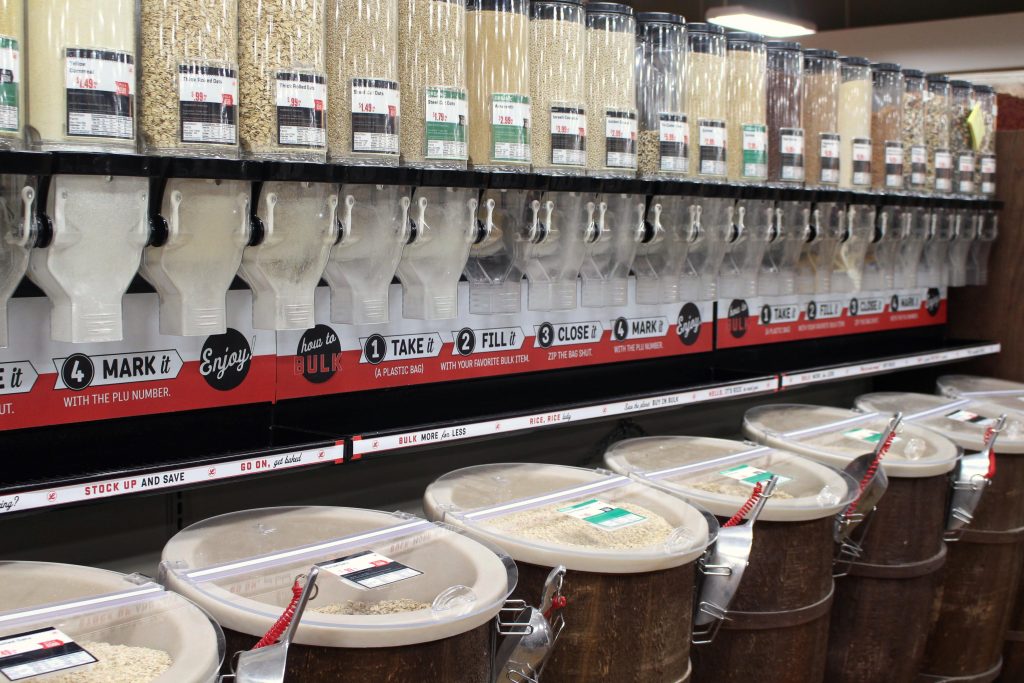 If you are fortunate enough to live near grocery locations with bulk sections (or a farmer's market), taking advantage of them can offer numerous benefits to you, your wallet, and the environment. Although each store is different, typical grocery bulk sections have nuts, grains, spices, candy, coffee, and specialty snacks. Some even have things like honey, olive oil, and peanut butter in bulk! Just a few of the main benefits of buying bulk are: 
It can cut down on buying single-use plastics and packaging that may end up in a landfill

It can help reduce food waste by allowing you to buy only the amount you need to use

Bulk items are usually cheaper by weight than packaged items

Quality of bulk items is typically better than buying packaged items off the shelf – and things like spices will be fresher when you buy specialty spices as you need them rather than trying to dig out that 3-year old jar of turmeric from the back of the spice drawer when you finally need it again.
If you are just getting started in your bulk shopping journey, use the tips below to get prepared!
bring your own containers and reusable produce bags
Bulk shopping can still produce as much waste as buying pre-packaged foods if you need to use all of the plastic containers and bags from the store. Bringing your own containers not only reduces waste, but now you already have the item you need in the jar by the time you get home.
While I have bought a few containers for my baking goods, most of the ones I use are old jars from salsas or spaghetti sauce that I keep instead of recycling. Yes, I am Mother Earth.
I own a couple different types of produces bags – these ones (sturdy and good for the farmer's market) and these ones that are thinner mesh and easier for a cashier to see through at the grocery store. You can get similar ones anywhere.
measure the tare weight of your bags and containers ahead of time
The tare weight is the weight of an empty container; this weight is subtracted from the overall weight at the register so you are only charged for the items inside of the container. While you are able to measure the weight of your container at the store, it saves you time and effort by measuring ahead of time if you have a food scale at home. I have the tare weight written in Sharpie on the bottom of my glass jars, or you can write it on the lid or a piece of tape stuck to the jar.
For produce bags, the thicker ones I own have the tare weight on the tag. If a cashier forgets to look I usually don't bother since they are so light, but you are well within your rights to make sure the cashier subtracts the weight of the bag for any produce in it priced per-pound.
write the product number on the container
While cashiers know a lot of product numbers offhand, it's helpful to write the product number on the container, especially since there can be different variations of the same product (short-grain versus long-grain rice, different trail mixes, or organic versus conventional items). A good way of doing this is with a chalk marker that can wash easily off the jar later. You can also do this by writing on a piece of tape with sharpie.
Another easy way of "recording" the produce number is simply to take a picture of it on your phone and let the cashier know at checkout. Less marker hassle and you can delete the picture later.
For produce, I haven't found a great method to actually label the product number. You can't write on a reusable bag the same way as you can a glass container. However, the cashiers typically know the product number for commonly sold produce. If they don't remember it, there's a lookup binder at the register if the produce doesn't have a sticker on it.
fill up on your frequently used items & buy smaller amounts of specialty items
I go through crushed red pepper like a f*cking fiend, but I don't use turmeric often. By the time I go through an entire jar of turmeric it's likely gone bad and I've gone through ten life crises. I always fill an entire jar of the spices and grains I frequently go through, but for a spice I only need for a specific recipe and won't use again for a long time, I just buy the amount I need to use.
my favorite places to shop
The Farmer's Market: this is a great way to support local farmers and get the freshest produce that's in season. If you bring your own bags, you generate less waste than in a conventional store, and by shopping local you are supporting nearby farmers that generate less transportation costs for their goods.

Lucky's Market: Lucky's has a great bulk bin selection at pretty fair prices. They have a wide variety of things that range from baking goods and grains to less typical items like peanut butter and honey!
Spice and Tea Merchants: I like coming here as you can buy anything from staple spices in larger amounts to specialty spices in small amounts. And the spices are so much fresher than from the grocery store! Bring your own jar and buy by the amount you need 🙂
Thanks for reading! Do you have any special tips you'd recommend to a newbie bulk shopper? Let me know!