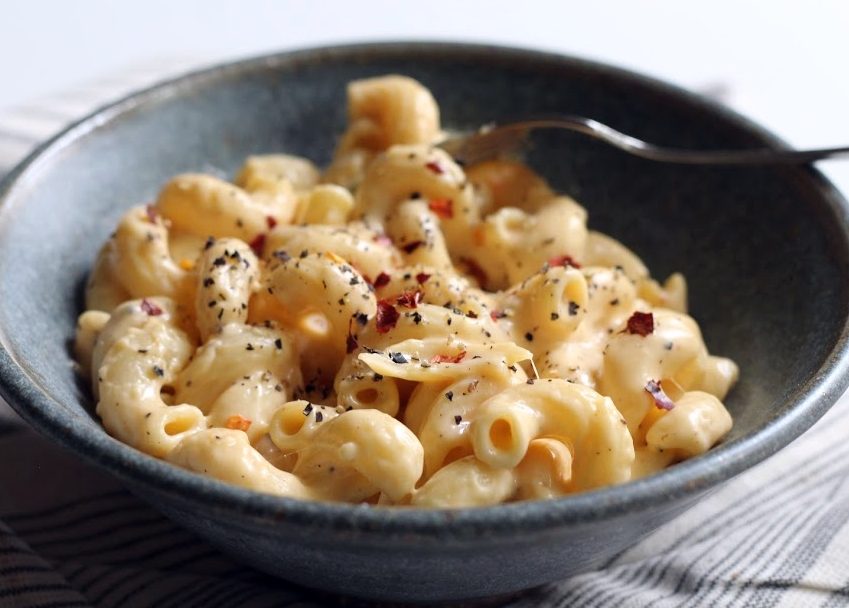 prep time: 15 min | cook time: 20 min
Hello beautiful people. I've dropped on this internet page the recipe for basic, creamy mac and cheese. And for all the purists out there, let's just get out of the way that if you're using cavatappi, shells, or any other noodle product other than macaroni, it's not technically macaroni and cheese. We know. Now we are going to continue calling it mac and cheese because we can.
The base of a good mac and cheese is mixing a roux (paste made of butter and flour), then transforming it into a bechamel by adding milk, and then incorporating cheese slowly to create your final cheesy sauce.
notes
Cheese:

I suggest buying fresh deli/block cheese over pre-shredded cheese. Pre-shredded cheese is more processed and powdered in anti-caking agents that will prevent the final sauce from melting together as nicely. If you do buy pre-shredded cheese, the amount you'll need for the finished sauce may not match what the recipe calls for exactly since the texture and makeup vary greatly, so keep that in mind and pay attention when building up the sauce. As a general rule of thumb, I go with around a 2:1 ratio of cheddar cheese to mozzarella (by weight) and make adjustments depending on how the sauce looks near the end.
ingredients
makes about 4 servings
8 ounces cavatappi or macaroni (or any small, hole-y pasta)

4 Tablespoons butter

¼ cup all-purpose flour

2 cups whole milk

3 ounces fresh mozzarella (see Note 1)

6 ounces sharp cheddar cheese (see Note 1)

2-3 teaspoons Dijon mustard

½ teaspoon salt

Ground black pepper

Crushed red pepper, optional
prep
Bring a large pot of salted water to a boil.

Sift flour to remove any clumps.

Portion out flour, butter, milk, and mustard

Roughly dice mozzarella into small pieces and grate cheddar cheese.

The mozzarella helps add gooeyness to the pasta since it has a high moisture content, and the cheddar brings the flavor; I recommend preparing a bit more cheese of each amount in case you need to adjust here and there at the end.

If using pre-shredded cheese (which I am STRONGLY AGAINST, just kidding it's a free country do what you want) portion out general amounts and set aside.
get cooking
Cook the pasta for 2 minutes less than the time directed for al dente on the package. It will cook more in the cheese sauce and we do not want overcooked noodles.

Whenever the pasta is done boiling, reserve some of the pasta water before draining.

Melt the butter in a pot over low heat.

Once butter is melted, whisk the flour in bit by bit until it forms a thick paste (this is the roux).

Slowly whisk in the milk. Continuously stir for 5-10 minutes, until it transforms from thin and liquidy to a thickened sauce (this is the bechamel).

Stir in cheese

slowly

, adding bit by bit. I alternate between adding some mozzarella and some cheddar at a time. Adding cheese gradually helps it to melt evenly into the sauce. Make adjustments as necessary – if the sauce seems too stringy, add more cheddar to offset the mozzarella; if the sauce seems too thin, add more mozzarella to make it nice and gooey.

Stir in salt, pepper, and mustard.

Add pasta to the pot and stir until it is well incorporated into the sauce.

Stir in a small amount of pasta water to pull the sauce together until you get to a desired consistency (you shouldn't need a lot, just a bit to loosen up the cheese mixture and pull everything together).

Add crushed red pepper if you like. Add any additional salt needed to boost your flavor and you're good to go.
wine pairing: A nice white. Red is fine too if that's what you like. And rosé never hurt anybody.