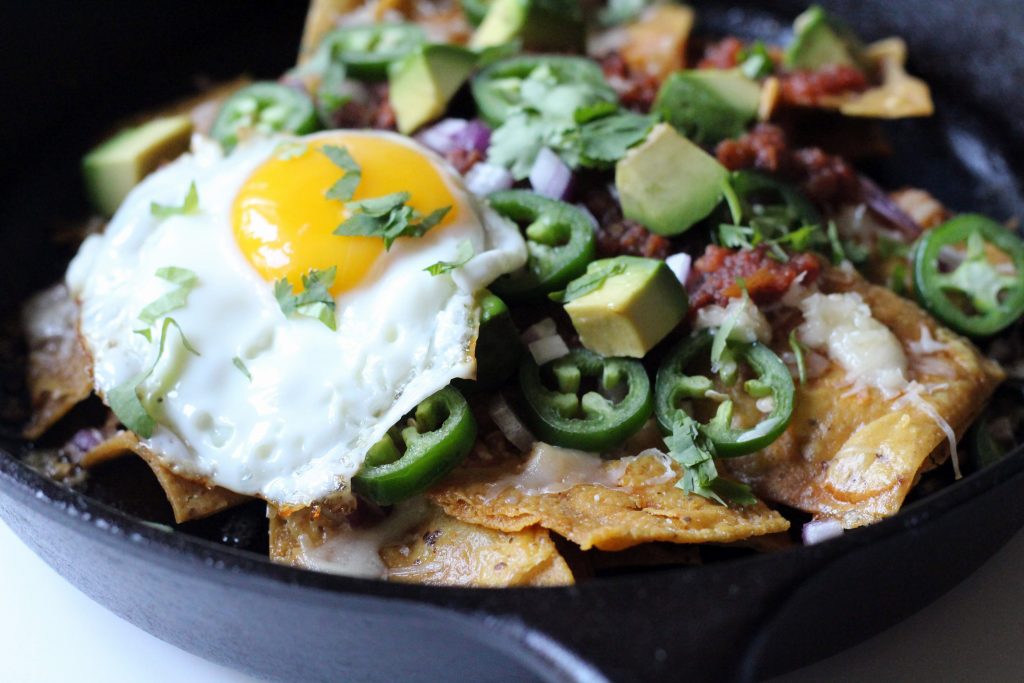 prep time: 5 min |
c
ook
time: 10 min
Chilaquiles are a Mexican breakfast dish that are made by cutting up tortillas, frying them lightly, and then cooking them in a salsa or crema with a variety of toppings added. It's a way to throw together a quick breakfast by re-using stale tortillas and adding leftovers or extra ingredients on hand. I have heard tons of descriptions of what "authentic" chilaquiles are because each region (or household, even) will vary greatly in how they cook the dish, but most people agree that it's basically whatever you like. All of my ingredients are suggestions and loosely measured out – I really think the salsa, chips and egg are essential and whatever else you want to add is up to you.
I call out to use tortilla chips in the recipe because that's what's easiest (hence why I call them "lazy"), but traditional chilaquiles are really delicious because of the use of crispy fried tortillas. For this reason, I like using tortilla chips that are higher quality than those that I buy to just dip in salsa. I like using Ann Arbor Tortilla Factory chips because they are thick and have an excellent texture to them. They are expensive as shit (like $8 for a 16-ounce bag as opposed to the $3 that I usually spend), so I don't buy them all the time, but when I do I fully enjoy them and they last quite a while. If you aren't local you can still buy them online, but it isn't necessary. I do think looking around and finding a good tortilla chip makes the difference though! 
ingredients
makes about 2 servings
Tortilla chips 

Salsa (I suggest a roasted chipotle flavor)

2 eggs

1 jalapeno

1 tomato

½ red or yellow onion

Cheese (I usually use monterey jack)

1 avocado

Cilantro

Olive oil
prep
Get two pans out: a non-stick skillet for frying the egg, and another pan for the tortilla chips. I used a cast iron pan for this because cast iron retains heat very well and I am a cast iron fangirl. But any pan is fine.

Slice the jalapeno.

Dice tomatoes, onion, and avocado.

Chop the cilantro.

If you didn't buy pre-shredded cheese, grate your cheese into a bowl.
get cooking
Heat a cast iron pan over low heat and add a thin layer of oil to coat the bottom of it. Test the pan to see if it's hot enough to cook on by flicking some water on it. If the water lightly sizzles on contact, it's ready to cook with – however, you want to make sure the pan isn't too hot. Set the tortilla chips in the pan and sprinkle cheese over top. Add the salsa, tomatoes, onion, and jalapeno slices. Cover with a lid and keep at low heat so everything slowly gets nice and melty.

Heat a non-stick skillet over medium heat and add enough oil to evenly coat the bottom. When the pan is hot, crack the egg(s) into the pan and cover with a lid.

Cook the eggs for a few minutes – they will be cooked through when the white goes from a clear color to opaque white and you start to just see a film forming over the yolk. When the egg is fully cooked, you should have no problem releasing the egg from the pan with a spatula without breaking it. If you like your eggs more done, you can flip and cook the other side a little longer.

Transfer the nacho pile of goodness to a plate and add the egg on top. Top it off with cilantro and avocado.

Stuff your face with your chilaquiles dish and then take a 2-hour nap.