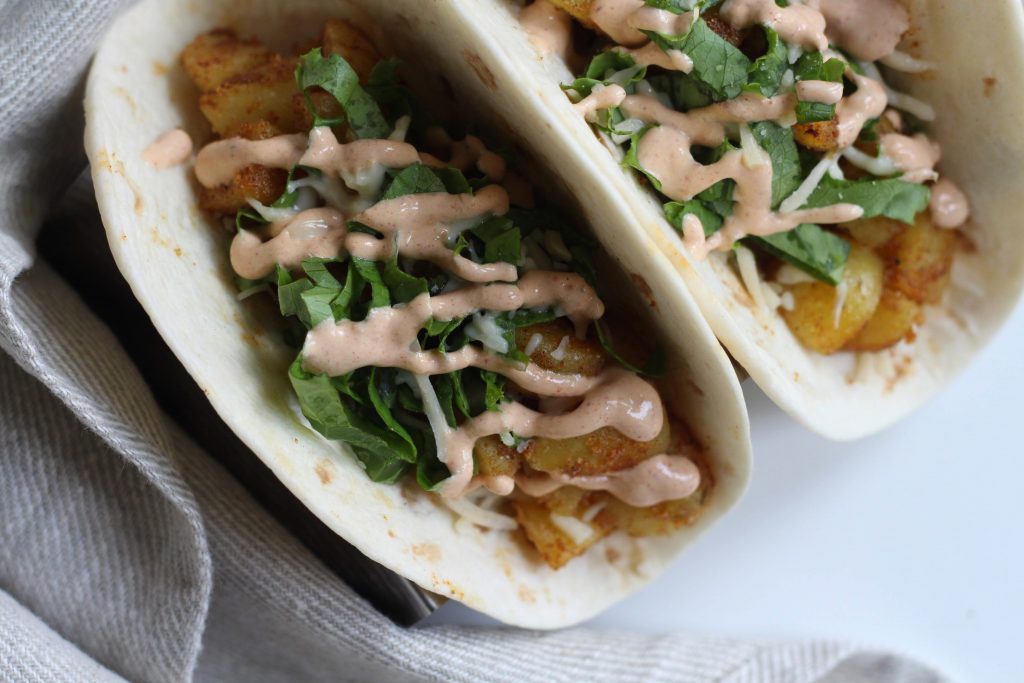 prep time: 10 min | cook time: 25 min
I remember when Taco Bell was my main food group throughout high school. It was THE hang out spot for me and my friends. I also remember my metabolism was way better back then so I could afford to eat more crunchwraps than I can now… sigh… but I'm telling myself I'm aging gracefully.
It's not like my relationship with Taco Bell ended once high school was over though. It has been with me through multiple cities, jobs, relationships, and life crises. Me and my freshman year roommate used to clear out the bin of Fire sauce packets when we'd go to Taco Bell to stock in our dorm room. That was what got us through life back then. I should add that we both still do this now, just separately, within our own adult lives, stashing away piles of Fire sauce like madwomen preparing for the rapture in our apartments.
One of my favorite menu items is the spicy potato soft taco. I know it defies all authenticity within Mexican cuisine (as does… everything on Taco Bell's menu), but I love it. I love it so much that I've decided to make it at home, because even though I love you, Taco Bell, sometimes those potatoes are hard as a mothafukkin rock and you refuse to give my taco the amount of chipotle sauce it deserves. 
notes:
This recipe uses the same technique as my

fried breakfast potatoes

– par-boiling the potatoes first and then frying so you achieve a nice crispy crust with a soft potato-y inside. Head to that recipe if you want to try them out for a nice weekend breakfast!
ingredients
makes about 6-8 tacos, depending on how fat you want your tortillas packed with potates
FOR THE CRISPY POTATOES
2 large Russet potatoes (about 1 pound)

Olive oil or butter, enough to evenly coat pan (2-3 Tbsp)

2 tsp (ish) onion powder

2 tsp (ish) garlic powder

2 tsp (ish) paprika

Salt
CHIPOTLE SAUCE
1 cup sour cream

2 chipotle peppers from can of chipotle peppers in adobo sauce

+ 1 spoonful of adobo sauce from can of chipotle peppers in adobo sauce

1 Tbsp olive oil

Juice of ¼ lime

1 teaspoon garlic powder

1 teaspoon onion powder

1 teaspoon paprika

½ teaspoon salt

2 teaspoons water
OTHER TACO FIXINGS
Small flour tortillas (fajita-sized)

2 leaves green leaf or romaine lettuce

Chihuahua cheese (monterey jack or Mexican work fine too)
prep
Gather a pot for boiling water and a cast iron pan (cast iron is best for crispy potatoes because of the heat retention, but if you don't have one any pan is fine).

Bring a pot of salted water to a boil over medium-high heat.

Peel the potatoes. Cut each potato into 4 pieces (cut lengthwise, then crosswise). Try to cut them all into similar sizes so they boil evenly. If you got smaller potatoes, you can just cut them in half.

Chop lettuce, wedge lime, and measure out other ingredients as necessary.
get cooking
Once the water is boiling, set the potatoes into the water gently with a spider or slotted spoon so the hot water doesn't splash up and burn you. Set a timer for anywhere from 5-10 minutes: 5 minutes for a firmer potato and up to 10 minutes if you like them very soft inside. I would not recommend boiling them any longer than 10 minutes or else they may become too soft. (8 minutes is my sweeeeeet spot personally).

While the potatoes are boiling, puree the items for the chipotle sauce in a food processor until smooth and creamy. 

When the timer goes off, remove the potatoes from the water with a slotted spoon or drain them into a colander. Rinse under cold water for about 10 seconds (this stops the cooking process and cools them down) and let them sit for a few minutes.

Warm the pan over medium-high heat; add enough oil or butter to evenly coat the bottom of the pan.

Cut the potatoes into cubes.

Test the pan to see if it's hot enough by flicking water on it. If it sizzles on contact, it's ready to cook with. Add the potatoes to the skillet and make sure they are spread out evenly (if you are making a large recipe and the pan would be too crowded with all of the potatoes, you may want to cook in batches or on two separate pans).

Let the potatoes cook for about 5 minutes without stirring. Once it looks like the pan-side of the potatoes are lightly golden and crisp, stir them around so the other sides get some fry action.

Cook another 5 minutes or so, until the potatoes look like they have crisped up enough.

Turn off the heat, add the onion powder, garlic powder, and paprika and stir until everything is well coated. Add a sprinkle of salt for seasoning.

Warm tortillas in a skillet or microwave (to keep them warm for longer, you can wrap them in tin foil or a damp towel).

Assemble your tacos and EEEEEEEAT.