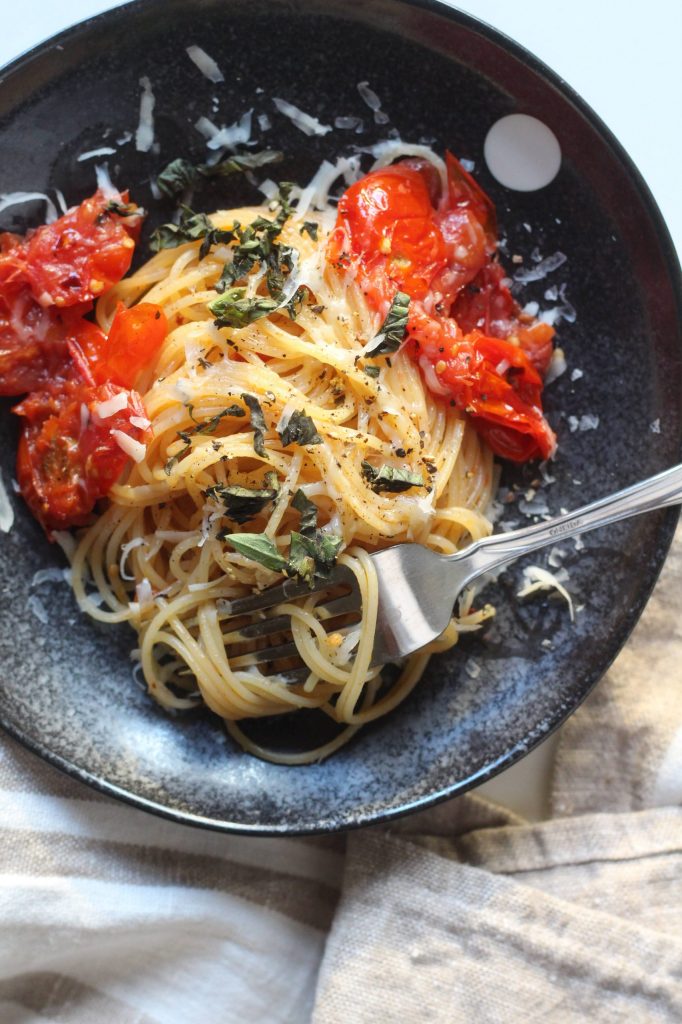 prep time: 10 min | cook time: 15 min
IT'S ALMOST TOMATO SEASON. That means it's time for one of my favorite simple dishes that involves a lot of tomatoes. This pasta is less "saucy" than some may be used to, but I love the simple olive-oil-and-tomato coating. When tomatoes are in season and the farmer's market is overflowing with these red gems, pick up a basket and get to making pasta 🙂
notes
Tomatoes:

Good tomatoes matter – pick nice ripe ones! They will have more depth and flavor than ones that aren't ripe yet. Ripe tomatoes will be firm but have quite a bit of give to them when you squeeze them, and will feel heavy from the juices in them. Heirloom tomatoes work well, but cherry tomatoes are also a good choice because you can just toss them in and wait until they burst open, like in this

Bon Appetit

recipe.

Flavor:

Make sure to simmer the tomatoes long enough – at least ten minutes. If you have time to let it simmer, go for longer. The longer a sauce cooks, the more flavor develops; you will notice the taste transforms from the fresher, "raw" tomato taste to a more in-depth saucy flavor as it cooks longer.

Additionally, make sure you season with salt enough. It's amazing how different a dish can taste when it is undersalted versus the right amount. As always, continuously salt to taste, adding little by little until the flavor is perfect.
ingredients
makes about 2 servings
6 ounces pasta – I use spaghetti or linguine

4 tablespoons extra virgin olive oil,

+ extra if your sauce needs more at the end

2 cloves garlic (or 4 if you're like me)

About 1 ½ pounds tomatoes, heirloom or cherry

½ red bell pepper

Crushed red pepper

Salt

Ground black pepper

Basil, optional

Parmesan cheese, optional
prep
Gather a stockpot and a saute pan.

If you do not want any tomato skins in your dish, blanch them and remove the skins prior to cutting. I'm usually too impatient to do this and I don't mind tomato skins in my pasta, so most of the time I skip this step.

Chop tomatoes loosely (if using cherry tomatoes, no need to do this step).

Mince garlic.

Halve and deseed red bell pepper. Dice or slice into thin strips.

Measure out the pasta needed.
get cooking
Bring a pot of salted water to a boil.

Heat olive oil over medium heat. Test the pan to see if it's hot enough by flicking some water on it. If the water sizzles on contact, it's ready to cook with. Drop the tomatoes in the pan along with crushed red pepper flakes, red bell pepper, and a sprinkle of salt for flavor.

Let the tomatoes cook down for a few minutes while stirring occasionally and smushing some of the tomato pieces down. Add garlic and cover the pan with a lid and set the temperature to low.

Drop the pasta in the boiling water and set a timer for the required cook time for al dente, or even one minute less (it will cook a bit more in the pan). Stir occasionally.

Stir the tomatoes occasionally until the sauce thickens, smushing down any extra solid pieces while stirring. The sauce should simmer for at least 15 minutes, longer if you can manage it. Taste continuously – you will start to notice that the longer the sauce cooks the more it will take on a deeper flavor as opposed to the "raw" taste it starts out with. Salt to increase flavor.

Drain pasta when done cooking. Once the sauce tastes like it's cooked through enough, dump the pasta into the pan of tomato sauce and toss to incorporate.

Salt to taste, and add a little more olive oil if you need to. Add some more crushed red pepper and basil if you like. Grate parmesan cheese over top and you're done! Now go enjoy on your couch while watching your eighth run-through of

The Office.
wine pairing | A nice red. Or possibly a white. Rosé is also a good choice.